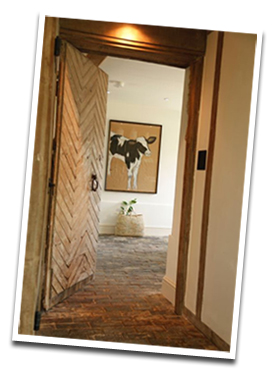 Village Barn is a private wellness centre and is open by appointment only.
2012 Detox weeks £890 per week to include all raw and organic food and juice as well detox classes. This is for the non residential option. If you require accommodation, please contact us for details on the options available.
All 2013 detoxes will now be residential.
The new residential formula includes one-to-one consultation and 2 complimentary treatments . All inclusive 5 days: £1499.
GIFT VOUCHERS
Our revitalising detox weeks make a beautiful and generous present. All Village Barn treatments are available as gift vouchers too. Gift vouchers start at £35
Find out about our individual therapy prices.
To book please email catherine@village-barn.com.
Or phone Catherine on 07813 182 651.
Book a detox week, raw food lunch, rejuvenation week end or revitalizing day.
Catherine Chichester
Village Barn
Village Farm House
The Green, Bledington
Oxon OX7 6XQ
Terms & Conditions
A non-refundable deposit of 50% is required with each booking. The balance is required no later than 21 days prior to the start date of the course. If you are booking within 21 days of the start date, 100% of the course fee is payable. Please note that your place is not confirmed until we have received your deposit. It is advisable to check availability by phone or email, and secure your place by payment of the deposit (cheque or bank transfer). Failure to comply with our payment terms will result in cancellation of your place.
As Catherine does all the teaching, she retains the right to reschedule if she is ill or otherwise unavailable. In the event of this happening a full refund of any monies paid will be given. Refunds are at the sole discretion of Village Barn, and will only be considered if cancellation is received in writing or by email at least four weeks prior to the start of the course.