Set in the beautiful Cotswold village of Bledington, Village Barn is a centre for nutritional healing and optimum health.
We run a programme of courses and workshops designed to inspire you to eat your way to optimum health. Working in small groups, each course delivers the knowledge and know-how to truly nourish your body, bringing it back into balance and health. Personal consultations for individual nutritional advice are available.
We offer a varied selection of complementary and alternative treatments, oriental health exercises and nutritional therapies.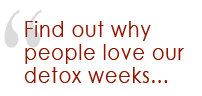 organic revitalising body detox
juice feasts for abundant energy
learn and experience the benefits of a raw food diet
cooking classes focusing on total health and optimum nutrition
experienced therapists offering transforming treatments
integrate yogic lifestyle through weekly yoga classes
improve digestion / optimise elimination

Our three hundred year old barn has been lovingly restored to provide the perfect environment for relaxation and renewal. We have a fully equipped demonstration kitchen, a series of quiet treatment rooms, an impressive main function area and an intimate and contemplative yoga studio.
As well as our own courses, the barn is available to outside workshops and events. Please contact us for more details.